Expand your customer solutions and increase revenue with our Partner Program for Dealers and Agents.
The pdvWireless Partner Program is uniquely positioned to help dealers and agents. Our goal is to help our partners grow in the evolving Push-to-Talk marketplace and offer new solutions to their customers with the DispatchPlus application. With national coverage, a network dedicated solely to business, end-to-end communication, competitive rate plans and industry-leading Motorola radios or the option for businesses to bring their own devices, our Push-to-Talk solutions help solve the specialized communication needs for dispatch-centric businesses in virtually every industry.
Including:
Automotive & Towing
Construction
Delivery & Distribution
Education
Energy
Government
Non-Emergency Medical Transport
Security
Transportation
Waste Management
We offer opportunities for dealers, sales agents and referral partners.
While our current solutions are state-of-the art, we are continually evolving existing products and exploring exciting new technologies that help our dealers enhance their service offerings and increase sales.
The pdvWireless Partner Program provides unrivaled support, marketing resources and industry leadership in helping your business grow and succeed.
Partner Program Benefits
Commission
Aggressive commission structure providing substantial payouts and long term residuals. Compensation can be augmented by bonus payments and short-term performance based incentives.
Sales Support
Assist with live web presentations, demos and sales support for deployment and training.
Marketing and Training Support
Onsite and web-based sales training by experienced sales executives. Web portal with presentations, datasheets, case studies, ROI calculations and product videos.
Customer Support
Specialists to assist with deployment and support for large accounts. Personalized phone and e-mail support.
Industry Support
Our team can help your customers solve their communication challenges in virtually every industry including waste management, construction, field services, transportation, distribution, government and education.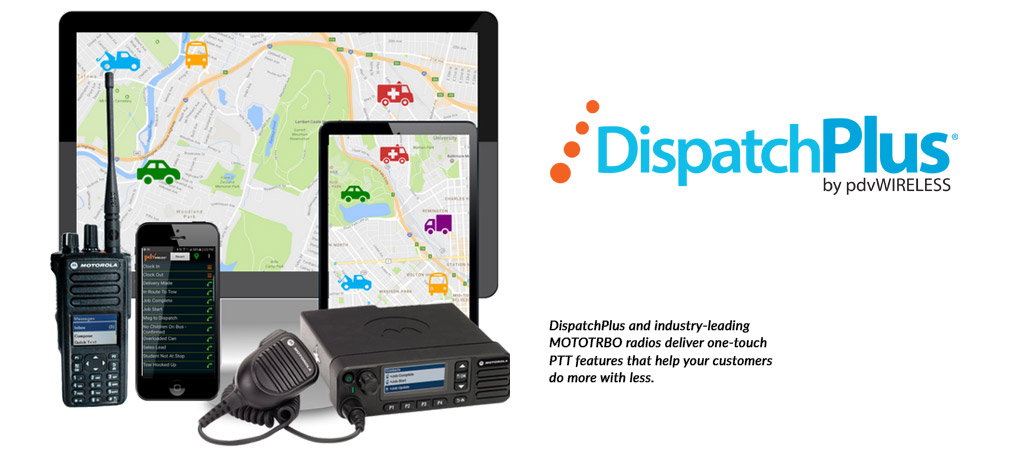 Add value and ROI to your customers' business with DispatchPlus.
DispatchPlus®, our cloud-based workforce management solution, delivers both reliable PTT communications and high-productivity features designed specifically for dispatch-centric operations. This two-in-one solution can help your customers solve time-consuming challenges in virtually every industry.
Running on pdvWireless' national, two-way radio network designed exclusively for business, DispatchPlus helps ensure seamless communications so business continuity is never compromised. Combined with rugged Motorola MOTOTRBO radios, your customers get a robust solution to stay connected…even in the most demanding environments.
Why DispatchPlus?
DispatchPlus can help you differentiate your business with a solution that solves your customer's critical communication problems. DispatchPlus opens the door to speak to new prospects and re-engage current customers on a whole new level because it offers instant visibility into their employees – they can see where they are and where they have been.
DispatchPlus is for end-to-end communication needs. 
Monitor and dispatch workers more easily with an easy-to-view map.
Increase productivity of mobile workers with status updates and voice notes with location, date and time stamps.
Minimize driver distraction and safety issues with one-touch communications.
To learn more about becoming a pdvWireless dealer, please call us at

888-828-0738

or fill out the form above.